I couldn't sleep (surprise, surprise!) so I went surfing around the knit blogs and came upon this:

Your Inner European is Dutch!




Open minded and tolerant.

You're up for just about anything.
Who's Your Inner European?
On the knitting front I'm making good progress on both my shawl and the Regia Jubilee sock but they are not worthy of another pic just yet so I bring two recently completed projects.

From January to March of this year, Alison of
The Blue Blog
hosted the first Sockapalooza. This was a fun sock exchange with over 100 participants from across the globe!
You were sworn to secrecy and provided with minimal information about your pal, mainly size info, color/style preference and location. My pal was Helga, a German ex-pat living in San Francisco.
Here are the socks I sent Helga: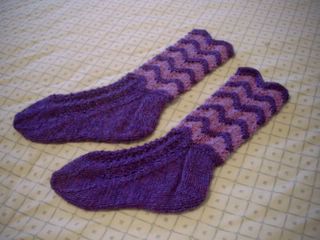 They are my own design of feather and fan stitch interspersed with wavy rows of garter stitch. I used 2 shades of Wildfoote fingering weight sock yarn which as I already stated, I really don't like...too twisty and splitty!! Helga liked the socks and coincidently, she told me Wildfoote is one of her *favorite* sock yarns! One knitter's nightmare is another knitter's dream, right? heheh....I can't WAIT for Sockapalooza Two!!
Here is another recently completed project and one of my favorites!!
This is the Leaf Lace Shawl designed by Evelyn Clark for Fiber Trends. This was a perfectly written pattern and a fun and interesting knit!! One thing that makes this pattern so special is it's written for 2 sizes in four weights of yarn so it gives you lots of options!!
I used 5.5 skeins of Lorna's Laces Shepherd Sport in the colorway Neon and I knit the large size as well as adding one extra pattern repeat. I adore Lorna's Laces sport weight yarn, so soft and easy to knit with and this shawl just makes me smile!
Happy weekend, and Happy Mother's Day!!