I didn't get Pumpkin until he was 6 months old but his breeder had this pic of him when he was 4 months old and this was the pic I fell in love with! He was just what I was looking for as far as breed and coloring - I REALLY wanted a red and white tabby Exotic and it had to be a male! (Neutered males are said to make better pets and from my experience, this is true!*)

When I met him in person, the deal was sealed!!

He had a terrible day!!! The breeder, Vicki was coming from Stuart, Florida to see another client in Ft. Lauderdale so she volunteered to bring "Tigger" to meet me. After an hour on the road Vicki's car broke down on I-95! They had to wait almost 2 hours for a tow truck and 2 hours at the auto shop fixing the fan belt that had snapped! Back on the road for another hour and they finally arrived at my home! Now here was "Tigger", having spent 6 hours in a pet carrier with no air conditioning, food, or water!! I took him out of his carrier and he looked nonplussed to say the least! But I let him sniff me a bit and hugged him to my chest where he curled up and began to purr like a motor!! Ah, it was true love!
I had known since losing Jaxon, that when the time was right for the next cat in my life, he would appear...and here he was!! I promptly told Vicki "Pumpkin" was home!!

Now don't you think he looks more like a Pumpkin than a Tigger?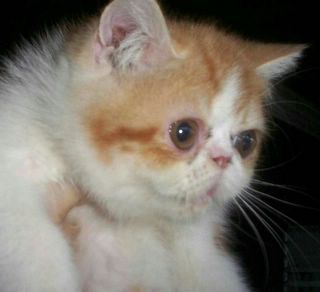 And here is a picture of my beloved Jaxon, acting as the Fearless Sock Avenger!!



Isn't he beautiful? He's the keeper of today's knitting content and was quite the ham whenever I was taking sock pictures. Wow, two pics in the same post...will wonders never cease? See ya....

*no offense intended to female cats, it's just my experience and fairly well documented in cat
breeding circles :)