Hi blog world!! Long time, no see...miss me? hehe....

I've been really busy with the usual end of semester bollocks higher learning of final exams, term projects and papers, oh my!! so my blog went a bit fallow. Besides, I didn't think anyone would mind looking at the beading tutorial a while longer since I've gotten such a wonderful and positive response to it! Thanx for all the great feedback and if I can ever offer any assistance for beading (or other topics for that matter) feel free to leave a comment or send me an email and I'll do my best to pay it forward for all the sharing and support this knitting community has given me!

Now I have a whole, glorious six days before classes resume. And, lucky me, one of my classes this term is Accounting!! YIKES!! For a woman who has *never* even balanced her own checkbook, this does not bode well!! (altho, I also have surprisingly never bounced a check!) Send me positive numeric vibes, would you? At least I have my knitting to keep me somewhat sane!

I'm still working on the linen Shaped Triangle Shawl but the end is in sight as I am on row 165 of 188 plus the border. The rows are soooo long and slow now as there are about 400 stitches on the needles but I'm chugging along because I am really eager to finish and see how the linen changes when washed and blocked. Unfortunately, because there are so many slippery stitches on the 32" circs, pics would just look like a tangled mess of skinny rope! I hope this will be a FO in the next week or so and I'll take plenty of pics then! I've also finished 1 1/2 socks of my Go With The Flow socks so they should be a FO and pic worthy soon too.

But just when you think this will be a pic-less post, Lace to the rescue cause everybody *loves* pics, right?

Right before I started this blog I finished Madli's Shawl from Summer 2004 Interweave Knits. I *loved* making this shawl, I *love* the yarn I used and I *love* the finished product so I thought I would share it now.


I used 3.5 skeins of Naturespun Fingering Weight in

French Clay

and a US #7 addi natura bamboo circ (but knit back and fourth, of course - I don't own straight needles other than DPN's anymore) This was my first experience with the dreaded nupp -- the little bobbles you see interspersed between the vines and on the border. The pattern suggested that you loosely *K1, yo* a total of seven times in the same stitch on the public side and purl SEVEN together on the return row!! I found this nearly impossible as the yo's tightened up to the needle and made it impossible to scoop up all seven stitches no matter how hard I tried! I didn't want to leave out the nupps as I feel they give real character to the finished shawl. My solution was to K1, P1, K1, P1, K1, P1, K1 in the same stitch VERY loosely...the purls gave the nupp some stability and support and the purls didn't tighten up on the needle the way the yo's did. I found this made a compact, neat nupp with not too much fuss and it prevented lots of vituperatives and tearing of hair :) Here's a close up of the border and those fractious nupps...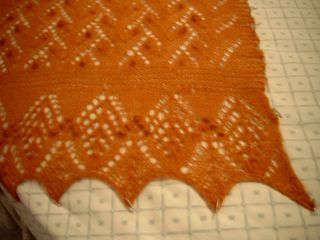 Another frightening interesting aspect of this shawl is you knit the border and the body pattern repeats and then leave the live stitches on the needle. You then knit a second border and kitchener the 110 stitches together! A bit daunting at first but not too difficult with absolute silence, lots of caffeine and a kitchener cheat sheet close at hand! (
Margene
- if you want to knit Madli, you can come for a visit or mail me the pieces and I'll kitchener for ya!)
The shawl was a gift for my Mom and she
*loves*
it too! I plan to make it again someday soon in black Kid Silk Haze cause I'm a knitter who loves herself some Madli's Shawl and a good challenge! (or has serious masochistic issues, hehe)
Now I know this blog has been suffering some serious Pumpkin withdrawal....
I just
*love*
this pic cause it looks as if Pumpkin is laughing at the great joke he just heard....A mouse and some catnip went into a bar.....
Pumpkin says have a great week, a good laugh and some knitting
*love*
of your own!!