Living in South Florida is a diverse, multi-cultural experience. There is a huge Hispanic population, especially Cuban-Americans.

When I worked in Miami my Cuban-American co-workers shared this delightful May Day tradition with me....

They believe that rain in May is special, especially rain on May 1. Anyone who stands out in the rain on May 1 will always be beautiful and always have beauty in their life! If it doesn't rain on May Day, the first rain of the month of May will have the same effect!

So if you see a bunch of folks standing in the rain on May Day, we are just looking for a little extra beauty in our lives!

Now in the interest of full disclosure, I must confess the pictures I have posted of my Pumpkin, to date, were taken in March. Today I give you the poor baby's real current pic:



Five weeks ago, my sweet little boy got some kitty litter in his eye!! Luckily I was there when it happened and rushed him to the Vet but even with such a quick response, he had a HUGE ulcer on his cornea! His whole eye was ulcerated! So for the last five weeks my boy's been a little conehead and has had to suffer thrice daily eye drops and antibiotic goop. Actually I'm probably taking it harder than Pumpkin...he's really been sweet and tolerant about the whole ordeal. Of course the post-medication CHICKEN FEST 2005 I treat him to probably isn't hurting, hehe... His eye has been healing steadily so hopefully when we go back to the Vet on Tuesday, he will be all healed!!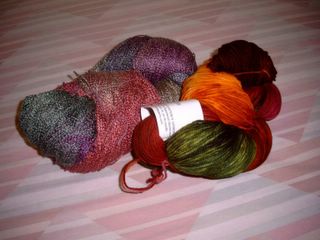 On the knitting front, I will post pics of my WIP's later this week but for now - STASH ENHANCEMENT!!
The skein on the left is 1400 yards of Interlacements Rick Rack, a fingering weight, slightly textured rayon in the Grape Harvest colorway that will make a spectacular shawl someday soon. The skein on the right is 500 yards of Interlacements Toasty Toes, a sportweight sock yarn in the Poppy Fields colorway. Aren't these two just lovely? I've never worked with Interlacements before but they were an end of semester gift to myself :)

Now go out and stand in the rain and get yourself some beauty!! Can't everyone's life use a little more?